Rachel Wuttunee is Anishinaabekwe from Kitchenuhmaykoosib in Northwestern Ontario and is from the Bear Clan. Rachel has been an Indigenous and human rights activist for 20 years and holds a Master's degree in Community and Regional Planning from the University of British Columbia where she specialized in Indigenous Community Planning. She has worked with many communities-at-risk throughout her 20-year career as an Indigenous Community Planner and is currently a Social Policy Planner for the City of Vancouver where she supports the implementation of the recommendations from Reclaiming Power and Place: The Final Report of the National Inquiry into Missing Murdered Indigenous Women and Girls and Red Women Rising Indigenous Women Survivors in Vancouver's Downtown Eastside (Red Women Rising). She currently lives and works on the ancestral, unceded and traditional lands of the Coast Salish Peoples who have protected and cared for since time immemorial.
Tansi booshoo, my name is Rachel Sagastas Wuttunee. I am Anishinaabekwe from Kitchenuhmaykoosib in Northwestern, Ontario and I am from the Bear Clan. I am an Indigenous Community Planner educated through a lifetime of planning and with knowledge passed down to me by my Elders, community and peers. Bear Clan are the guardians of their own communities, protectors, and carriers of medicine. My Elders have always influenced my life's journey, have nurtured my community engagement skills and have instilled my sense of responsibilities to Indigenous communities. I have been a human rights and Indigenous rights activist for over 20 years, working on the frontlines with communities at risk, community leaders, Elders, mothers, and youth in foster care. Throughout my journey carrying out decolonization work at the frontlines and grassroots level, and as an Indigenous Planner advising senior leaders in governments, I have witnessed the pervasiveness of colonial practices and the degree to which they violently permeate across all systems, policy sectors and social areas. It would be a mistake to describe colonialism as just a legacy because it is an ongoing practice.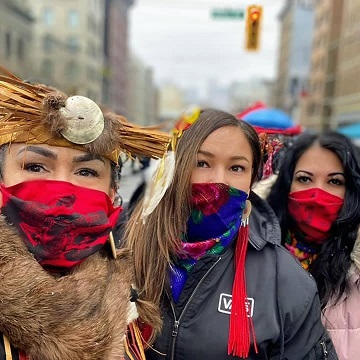 In my time working with youth in foster care, I worked directly with those who had aged out of care, were homeless and in jails or mental health institutions, and were mothers who had open files for their children with the Ministry of Children and Family Development. Through stories of their lived experience, the youth and mothers showed me where the gaps and harms in the systems existed. While I was working to support them, I advocated against policies and processes to ensure at-risk youth would be getting the substantive equality type of support they needed. For example, for at-risk youth without access to any resources, income supports which were greatly needed. However, income supports were only eligible for people fleeing violence, who had aged out of care, or for a single parent with dependents under the age of three. For youth who were eligible, many would end up losing the support because the income supports came with a level of administrative burden and, more importantly, without culturally appropriate frontline service delivery that would ensure recipients would maintain their applications to receive an income. This primed a condition for many of these youth to become further at risk. Many Indigenous women and 2SLGBTQQIA+ Peoples are often left with little to no options for survival and many resort to survival sex where they exchange sex for food, a place to sleep or other basic needs. Without any ongoing support (or attempts to improve the income support application process) this systemic practice creates conditions for these youth to be targets of abuse and assault. There is a direct connection between this social and economic marginalization and the crisis of missing and murdered Indigenous women and girls and Two Spirit People, which is described as one of the four pathways identified in the Final Report of the National Inquiry into Missing and Murdered Indigenous Women and Girls.
Many levels of government continue to maintain colonial systems and processes that are often harmful to Indigenous women, girls, and 2SLGBTQQIA+ Peoples. Statistics that are collected by governments can only convey so much information because that data is not disaggregated. Data needs to be collected specifically for the intersections of Indigenous women, girls, and 2SLGBTQQIA+ Peoples' lived experiences of violence and the outcomes and sources of that violence. The exclusions in income supports is a clear example of a social policy with a lack of disaggregated data and how it could be used to improve the application process, eligibility, and service delivery.
There is no data collected on how many youth have aged out of foster care into homelessness. Or, on the number of Indigenous youth who experience violence and lack of opportunity compared to non-Indigenous youth.
Many of the Indigenous youths' intersections and reported barriers within systems not designed to support them are not identified within government data sets. For example, there is no data collected on how many youth have aged out of foster care into homelessness. Or, on the number of Indigenous youth who experience violence and lack of opportunity compared to non-Indigenous youth. To better serve Indigenous youth in foster care, this kind of research is required so that can be effectively aged out of foster care and avoid homelessness, poverty, or otherwise fall through the cracks.
One of the greatest systemic barriers to engaging with Indigenous Peoples, especially Elders, is the bureaucracy in financial and administrative processes everywhere. In addition to the challenge of bureaucratic forms, social insurance numbers are often required in order to receive an honorarium, which alerts Revenue Canada that a payment (usually a small amount) has been made to an individual. Honorariums are typically irregular and only a one-time payment, and for individuals receiving income supports, this may bring their income threshold beyond the point of eligibility for the same support in the following year. For those relying on income supports for housing or childcare, this has the consequence of furthering marginalizing them, especially for Indigenous women, girls, and 2SLGBTQQIA+ Peoples and needs to be addressed. More attention on the human rights issues for gender diverse individuals within Indigenous communities needs to be brought to the forefront of many policies and social issues. Statistics show that Indigenous women and 2SLGBTQQIA+ experience more violence than non-Indigenous residents of Canada. Every service provider and funder should apply a Gender Based Analysis Plus (GBA+) to their work in order to effectively assess systemic inequalities for program service delivery staff and participants. This is another key area where disaggregated data could be collected and incorporated.
Indigenous women, girls, and 2SLGBTQQIA+ Peoples specifically have historically been targeted for violence and to this day still experience social, economic, and cultural marginalization. Qualitative and quantitative data about their experiences of marginalization in those spaces is critical to collect, record, and share. Doing so can positively impact the work of funders and philanthropists who rely on having data to determine funding allocations for the kinds of projects and programs needed to address those social gaps. The significance of this is highlighted across the 231 Calls for Justice which demand to end the socio-economic marginalization of Indigenous women-led grassroots organizations. Positive de-colonization practices are: paying grassroots groups for their work; paying Indigenous community members long-term and at competitive rates (avoid defaulting to honorariums every time). One of the greatest barriers for Indigenous grassroots groups when applying for funds are the criteria and conditions attached to the funding. Often, funding programs and initiatives are not culturally appropriate or inclusive of the needs of the community. For instance, funders will have outlined specific parameters based on their own top-down strategic priorities that do not often align with the needs of grassroots groups or even families of survivors, the latter who are also excluded from the funding applicant eligibility criteria.
There is a very specific lived experience I hold as an Anishnaabe woman doing frontline work and personally experiencing the systemic barriers against my community, while also carrying out the professional work in implementing the Calls for Justice. This lived experience has a burden on me physically, mentally, emotionally, and spiritually, and I maintain a spirit-based approach to my work. In practice, this means I take entire paid days for a ceremony and defend expenses for cultural protocols in my budgeting, such as hiring an Elder or beading a feather to give away. I also establish firm boundaries that protect my personal journey of decolonization and resist further assimilation to the quasi standards of professionalism that are based on the norms of the dominant culture. Enforcing these cultural practices teaches a lesson to non-Indigenous employers on ways to incorporate Indigeneity into the workplace. Decolonizing the workplace is essential to delivering equity and upholding the inherent rights of Indigenous women, girls, and 2SLGBTQQIA+ Peoples.
I consider myself a grassroots support worker for life. What I have said in this essay is the truth and it is up to the settler population to reconcile these harms.
TAKE ACTION
Upcoming Events:
Participate in an upcoming relay event on the Highway of Tears organized by the Tears to Hope Society.
To learn more about the grassroots and Indigenous communities' work: https://www.thefrogradio.com/
Key Days to Note for MMIWG2S
---
Guest Essay Series
The final essay in our Pride and Indigenous History Month series will be posted on June 29, 2022. To read the other essays in this series:
June 1 | On Intersectionality, Access to Justice, and Walking Between Worlds, by Benjamin Vandorpe, Founder, JusticeTrans.
June 8 | LGBTQI+ Afghans Need a Safe Way Out by Kimahli Powell, Executive Director, Rainbow Railroad.
June 15 | Indigenous Women, Girls and Gender-Diverse People Are Humans With Rights by Lynne Groulx, CEO, Native Women's Association of Canada.
June 21 | Industry, Police, and MMIWG2S in Wet'suwet'en Yintah by Jennifer Wickham.
June 29 | Queer/Muslim/Canadian by Momin Rahman.