Palestinian Civil Society under attack
Palestinian human rights group advocating for the rights of Palestinians and against Israel's system of apartheid are under attack.
In October 2021, without evidence, Israeli Defense Ministry issued a military order declaring six groups as "terrorist" organizations: Addameer, al-Haq, Defense for Children International – Palestine (DCIP), the Union of Agricultural Work Committees, Bisan Center for Research and Development, and the Union of Palestinian Women Committees. A few months earlier, a seventh organization — the Health Work Committees – was targeted separately as an "illegitimate" entity.
The designation effectively outlawed the organizations from operating and allowed Israeli authorities to close their offices, seize their assets and arrest or jail their staff members. It also prohibited publicly expressing support for their activities or funding the organizations. This designation was widely condemned, including by Amnesty and other international NGOs, European and other third-party governmental offices and representatives, and UN experts.
Ongoing attacks on the organizations culminated in mid-August 2022 when Israeli armed forces raided their offices in Ramallah, and confiscated files and equipment. They also issued military orders to close them down and welded shut their office doors.
One of the seven organizations, the Health Work Committees, has decided lowered its public profile, while the other six have chosen to raise their profile and appeal for international solidarity and protection. Amnesty International is responding to this appeal.
The occupying army has failed to silence our voice in defence of human rights. The army uses military law against human rights law. The raids show that Israel rejects the position of the EU and the international community, and rather invests in continuing the occupation and the human rights violations that it causes.

Khaled Quzmar, director of Defense for Children International – Palestine

WHAT YOU CAN DO: STAND WITH THE SIX
Express your solidarity on social media
Send public messages of solidarity to the six organizations that are appealing for protection (not the Health Work Committees which is keeping a lower profile). Take a picture of yourself holding a sign saying "I Stand with the Six" and/or gather a group of people to hold up signs with the names of the organizations (see list below). Share using the hashtags #StandWithThe6 #EndIsraeliApartheid
Addameer @Addameer
Al-Haq @alhaq_org
Defense for Children International – Palestine @DCIPalestine
the Union of Agricultural Work Committees @UAWC1986
Bisan Center for Research and Development @BisanResearch
Union of Palestinian Women Committees @of_committees
Write to Israeli authorities calling on them to:
Revoke the "terrorism" and "illegitimate" designation for the seven organizations.
Cancel the military orders closing the organizations' offices. The organizations' staff and directors should be allowed to do their human rights and social welfare work free from harassment.
Conduct an immediate, independent, transparent, and impartial investigation into cases of surveillance targeted at civil society organizations.
Send your letters to:
Benny Gantz, Minister of Defence
Ministry of Defence
37 Kaplan Street
Hakirya, Tel Aviv
61909 Israel
Fax: +972-3-6916940
Email: bgantz@knesset.gov.il
Twitter: @gantzbe
Prime Minister Yair Lapid
Prime Minister's Office
3 Kaplan St., P.O.B. 187
Kiryat Ben-Gurion
Jerusalem
91919, Israel
Fax: +972-2-5664838
E-mail: pm_eng@pmo.gov.il
Email: ylapid@knesset.gov.il
Twitter: @Israelgov or @yairlapid
Individuals at Risk: HRD Salah Hammouri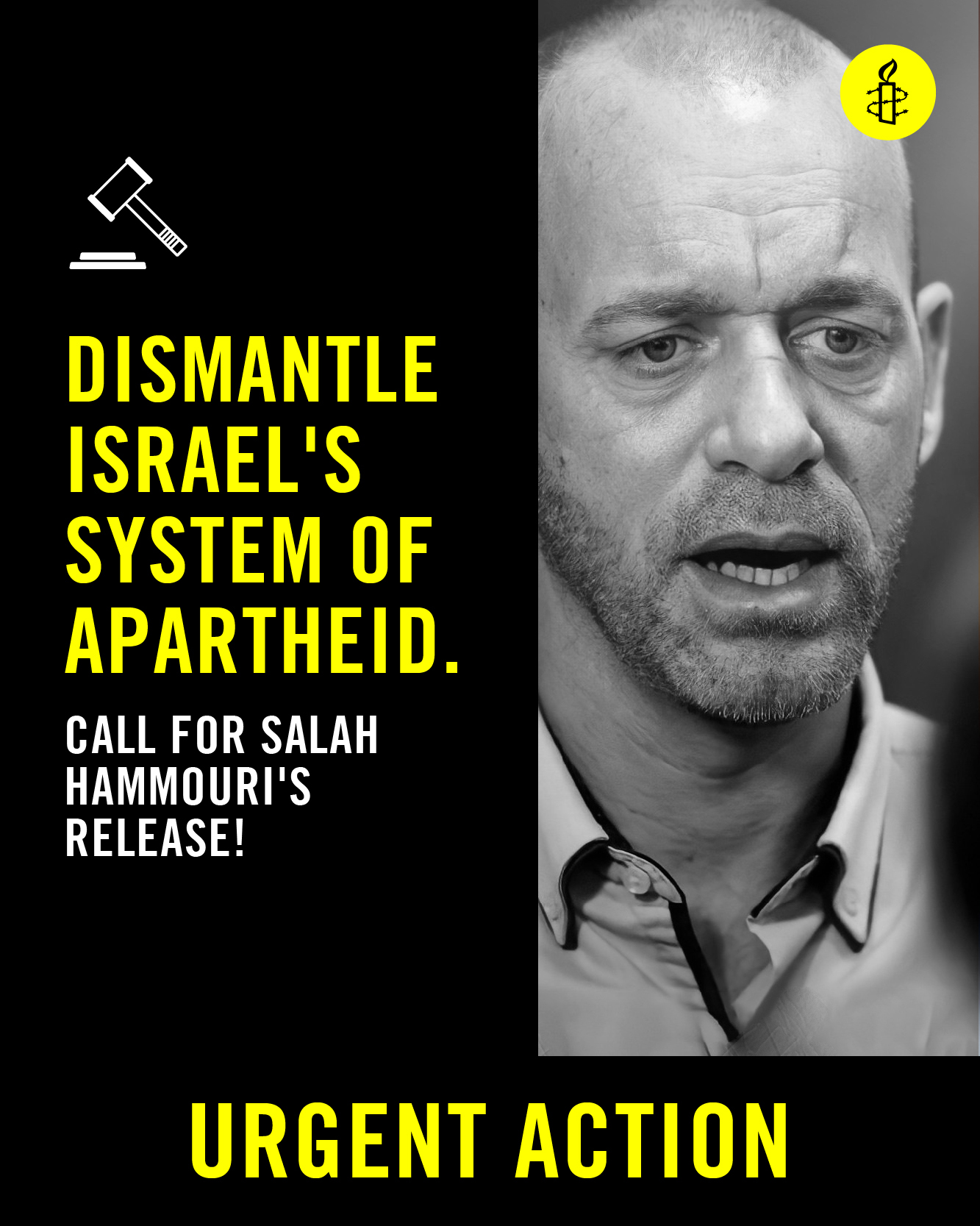 French-Palestinian human rights defender Salah Hammouri, who works with the prisoner support and human rights organization Addameer, has been repeatedly harassed and detained for his human rights work.
Salah Hammouri has been held since March on a series of three-month administrative detention orders, the latest of which was renewed in early September. Under administrative detention in Israel, individuals are detained by state authorities without the intent to prosecute them in a criminal trial. Orders can be renewed indefinitely, and evidence is kept secret, meaning that detainees are not able to effectively challenge their detention and do not know when they will be released.
Salah Hammouri should be immediately released, or promptly charged with an internationally recognizable offence. He should be allowed to keep his residency status in Jerusalem and continue his human rights work without fear of reprisals.
WHAT YOU CAN DO:
Sign and share the online action using the hashtags #FreeSalah and #EndIsraeliApartheid.
Graphics can be found in this FOLDER.
Ongoing Campaign to End Israeli Apartheid
After four years of research in Israel and the Occupied Palestinian Territories and building on decades of human rights advocacy in the region, Amnesty International launched a new report, Israel's Apartheid Against Palestinians, on February 1st, 2022. The report sets out how massive seizures of Palestinian land and property, unlawful killings, forcible transfer, drastic movement restrictions, and the denial of nationality and citizenship to Palestinians are all components of a system which amounts to apartheid under international law.
The government of Israel has an obligation under international law to dismantle this system of apartheid, and to repeal or amend all laws, regulations, policies, and practices that discriminate on racial, ethnic, or religious grounds to bring them into line with international human rights law and standards.
Amnesty's human rights concerns have always been directed at the policies, laws, and actions of the government of Israel, not the Jewish people. It is crucial not to conflate legitimate criticism of crimes under international law committed by the government of Israel with antisemitism. To do so is inaccurate and dangerous. We stand against antisemitism in the strongest possible terms.
WHAT YOU CAN DO
Read the campaign blog and FAQ, check out the free 90-minute course Deconstructing Israel's Apartheid against Palestinians. and continue to sign and share the online action Demolish Apartheid, not Palestinian Homes.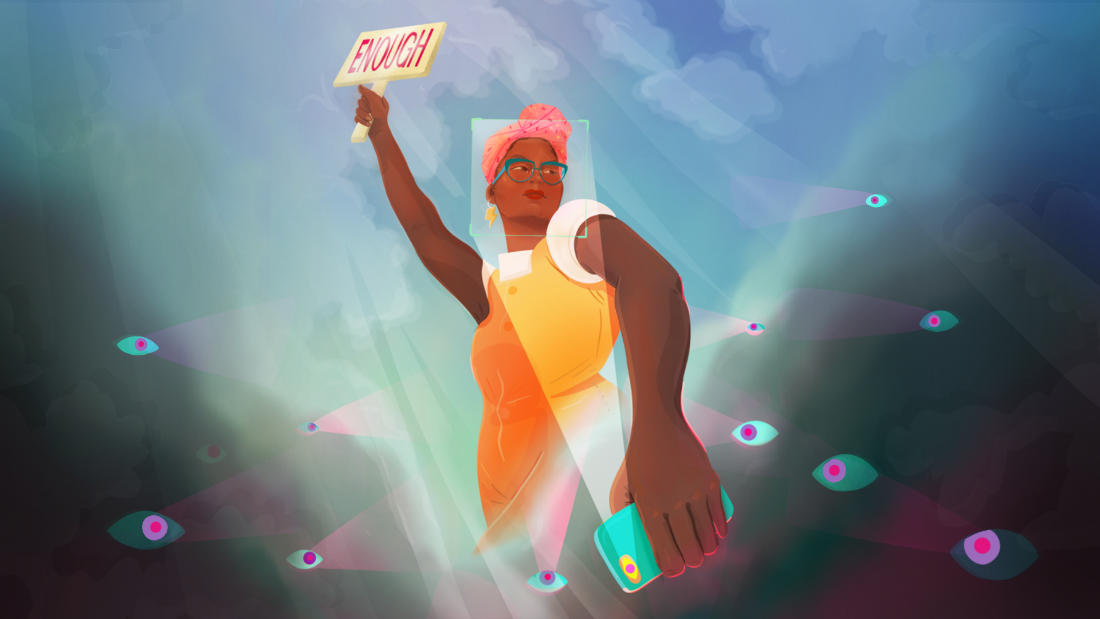 Demand an end to the targeted surveillance of Human Rights Defenders
Governments around the world are buying and allowing the sale of sophisticated and intrusive surveillance technology that can compromise anybody's digital devices and monitor their activity. They claim these surveillance tools are only used to target "criminals and terrorists", but human rights defenders, journalists and many others have been unlawfully targeted with spyware.
Before the Palestinian organizations described above were designated either "terrorist" or "Illegitimate", six Palestinian human rights defenders in these organizations – including Salah Hammouri — had their phones monitored using Pegasus, a form of spyware developed by Israeli cyber-surveillance company NSO Group.
The ground-breaking Pegasus Project investigation, supported by Amnesty, revealed the extensive use of this spyware against activists, lawyers, journalists and even world leaders.
WHAT YOU CAN DO
Sign and share the online action calling for a global moratorium – a halt on the sale, transfer, and use of surveillance technology – until there is a proper human rights regulatory framework in place that protects human rights defenders and civil society from the misuse of these tools.
Spread the word on social media. Graphics including individual stories and an explanation of the Pegasus spyware can be found in this FOLDER.
Watch and share this video explaining how Amnesty International helped to uncover the Pegasus Project spyware scandal.
For more information on any of these actions, please contact Hilary Homes, Crisis and Tactical campaigner, at the national office: hhomes@amnesty.ca.