The death in custody of Mahsa Amini at the hands of Iran's "morality" police in September 2022 sparked a nationwide uprising that continues into 2023, with women and girls leading the call for change. Iranian authorities immediately launched a brutal crackdown, using live ammunition, metal pellets, tear gas and other excessive force including severe beatings. Hundreds of protesters and bystanders were killed by security forces, including dozens of children. More than half of those killed belonged to the oppressed Baluchi minority in Sistan and Baluchestan province and the oppressed Kurdish minority in the provinces of Kurdistan, Kermanshah and West Azerbaijan.
Thousands have also been injured, including serious eye injuries due to the use of metal pellets. Fearing arrest, many do not seek medical care. Peacefully protesting university students and school children were expelled and subjected to violent raids, beatings and other ill-treatment. Iranian authorities have specifically targeted children as young as 12 for their involvement in the protests.
Recently, alarming reports have emerged about hundreds of schoolgirls being intentionally poisoned. Many needed medical care from gas attacks at their schools. These attacks raise concerns about increasing gender-based violence in Iran. Young women and girls have been at the forefront of protests, with many defying discriminatory compulsory veiling laws.
According to a leaked audio-recorded official statement, between 15,000 and 16,000 people were detained during the first weeks of the uprising. The authorities continue to arbitrarily arrest protesters and have admitted that the number now exceeds 22,000.
Revenge Executions
In a particularly worrying development, the Iranian authorities are resorting to the death penalty as a weapon of political repression to instil fear among the public and end the popular uprising.
Four protesters were executed in December 2022 and January 2023. With the thousands of arrests and charges, many more people could face the death penalty in connection with the ongoing protests (please see the list of actions below). Trials are fast-tracked through Iran's judicial system without any chance of a meaningful trial and appeal process. In some cases, state media aired the defendants forced "confessions" raising further concerns about the use of torture and other cruel, inhuman or degrading treatment.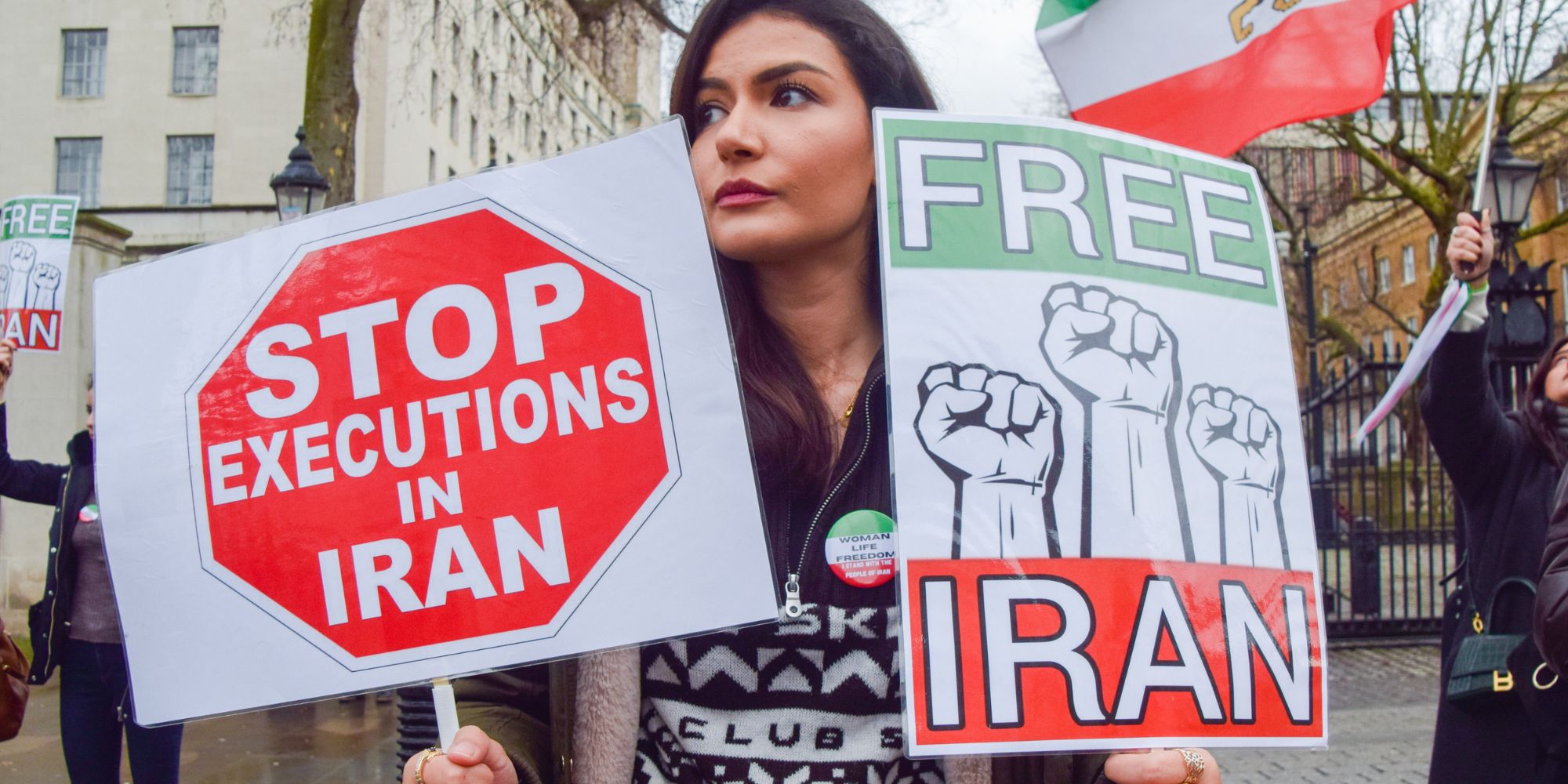 A history of crackdowns on dissent
This kind of brutal crackdown is not new. The authorities' violent repression of ongoing protests is the latest in the cycle of attacks waged by the Iranian authorities against people expressing their legitimate grievances for decades. During the past 5 years in particular, the Iranian authorities have consistently dealt with waves of mass protests with a militarized response.
No form of accountability exists within Iran. There has never been an independent investigation into the previous abuses, nor anyone held accountable.
The Iranian authorities have ignored repeated calls by the international community to open criminal investigations into unlawful killings committed in the context of protests since December 2017. Instead, they have sought to destroy evidence of their crimes while persecuting survivors and victims' relatives who called out for truth, justice, and reparation.
They also actively attempt to establish a different narrative around what is happening in Iran. For example: In the lead up to a special session at the UN Human Rights Council in November 2022 on Iran's lethal protest crackdown, Iranian officials in Geneva distributed lengthy briefings, which blamed the killings of protesters on "hired terrorists", "suicides" or "accidents" or questioned the death of some victims. Despite this, on November 24 the UN Human Rights Council has passed a landmark resolution to establish a fact-finding mission to investigate human rights violations in Iran related to the protests that began on September 16, 2022, especially with respect to women and children. The mission is being set up and will run for about a year.
A decades long call for justice
Between July and September 1988, the Iranian authorities forcibly disappeared and extrajudicially executed thousands of imprisoned political dissidents in secret and dumped their bodies, mostly in unmarked mass graves. Since then, the authorities have treated the killings as state secrets, refusing to tell relatives how and why their loved ones were killed and where they are buried. No official has been brought to justice and, in some cases, those involved hold or have held positions of power in Iran.
The former Charge d'Affairs to Canada was recently named by Amnesty as one of the officials responsible for the 1988 prison massacres.
TAKE ACTION
Sign and share our online action calling on Iran to Stop Revenge Executions. A paper petition can be downloaded here.

Sign and share our online action on the case of Zeynab Jalalian. A paper petition can be downloaded here. Zeynab, a 41-year-old Iranian Kurdish woman, is one of the longest serving women prisoners held for politically motivated reasons in Iran. Amnesty International is calling for her immediate release.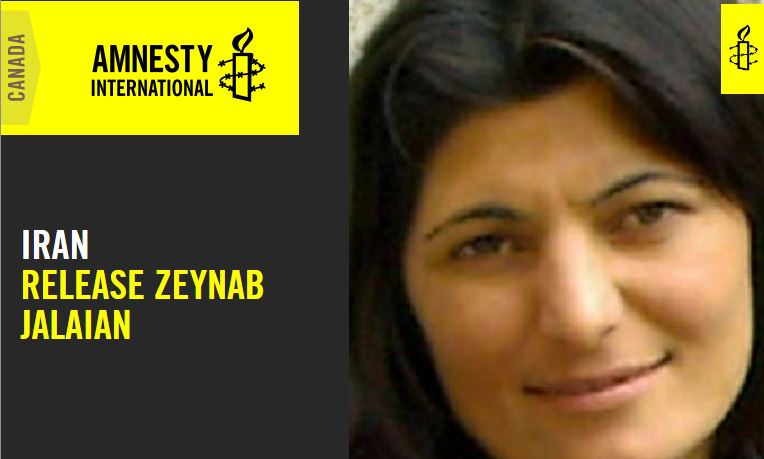 Write letters on Amnesty's recent Urgent Actions on Iran
Three young protesters — Javad Rouhi (31), Mehdi Mohammadifard (19), and Arshia Takdastan (18) – are at risk of execution following grossly unfair trials. Amnesty International learned that they were forcibly disappeared, tortured and otherwise ill-treated to "confess".
Mohammad Ghobadlou, a 22-year-old with mental disability is at grave risk of execution in connection with the nationwide protests. He has received two death sentences after grossly unfair sham trials, marred by torture-tainted "confessions" and failure to order rigorous mental health assessments despite his mental disability.
Call for the release of detained Belgian aid worker, Olivier Vandecasteele sentenced to 40 years in prison and 74 lashes. There are indications that the Iranian authorities are holding him hostage to compel Belgian authorities to swap him for a former Iranian official imprisoned in Belgium.
Show your solidarity
Attend the ongoing demonstrations and other events in your area. If you have questions about whether to attend as an individual or as Amnesty representative, drop me a line at hhomes@amnesty.ca.
Express solidarity on social media with the hashtags #MahsaAmini and #WomanLifeFreedom – the chant often heard on the streets of Iran during protests. Women and girls face such systemic discrimination in Iran that it is believed change on that front could end repression and promote respect for everyone's human rights.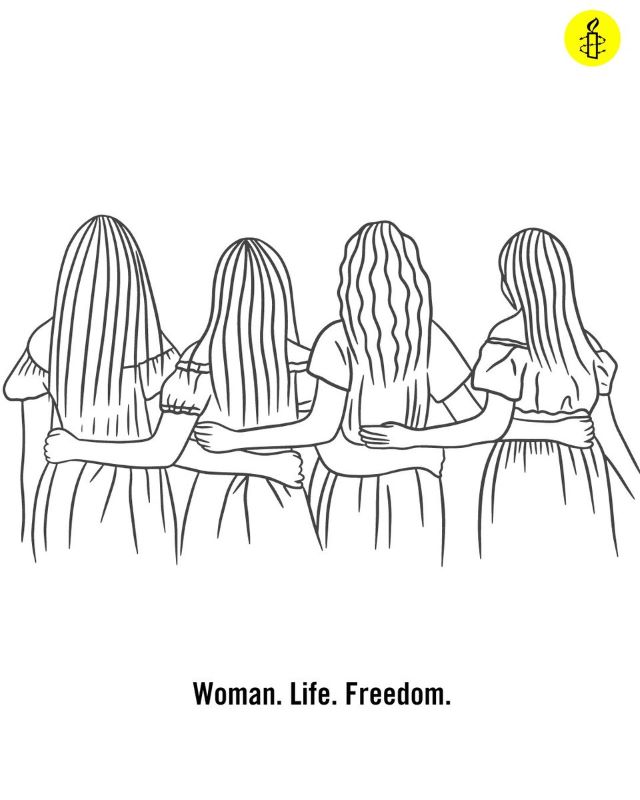 Engage the public
Hold a discussion on Marjane Satrapi's graphic novel Persepolis or arrange a screening of the 2007 film. Support and funding available: Reach out to afry@amnesty.ca at least 10 business days prior to your event, to get the screening license and a film discussion guide. Here's some more information about the film:
Persepolis (2007) Director: Vincent Paronnaud, Marjane Satrapi (Animated film, 96minutes)
Film Synopsis: In 1970s Iran, Marjane 'Marji' Satrapi watches event through her young eyes and her idealistic family of a long dream being fulfilled of the hated Shah's defeat in the Iranian Revolution of 1979. However as Marji grows up, she witnesses firsthand how the new Iran, now ruled by Islamic fundamentalists, has become a repressive tyranny on its own. With Marji dangerously refusing to remain silent at this injustice, her parents send her abroad to Vienna to study for a better life. However, this change proves an equally difficult trial with the young woman finding herself in a different culture loaded with abrasive characters and profound disappointments that deeply trouble her. Even when she returns home, Marji finds that both she and homeland have changed too much, and the young woman and her loving family must decide where she truly belongs.
Check out other Protect the Protest actions and resources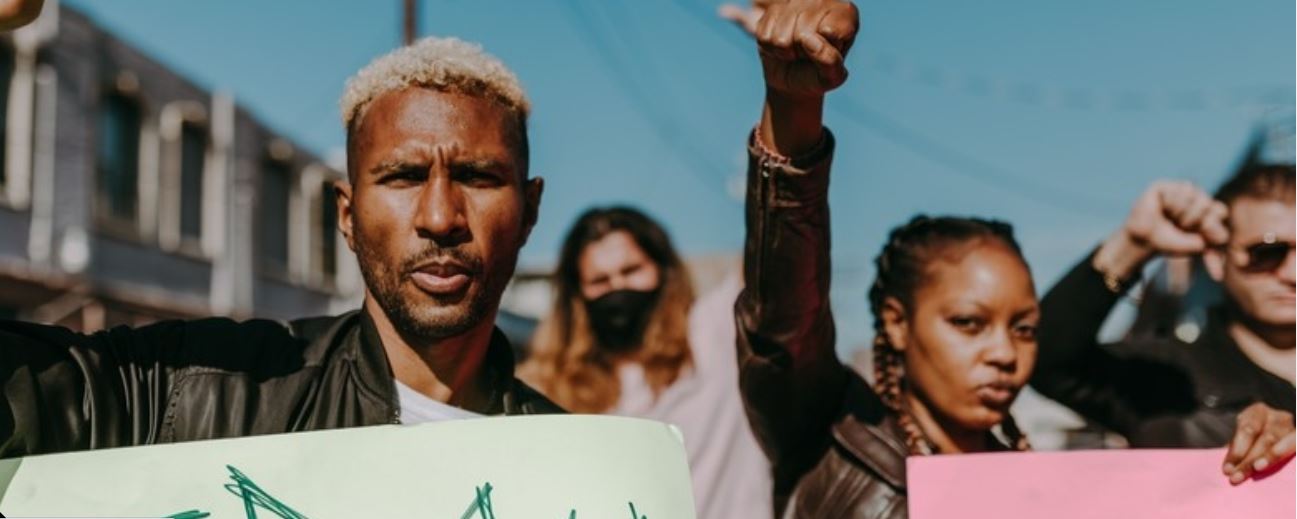 Sign and share our online action on protecting the protest in Sri Lanka. A paper petition can be downloaded here. Since widespread protests began in March 2022, Sri Lankan authorities have fiercely clamped down on protests and demonized protesters during a period of economic crisis and hardship in the country.
Read and take action on protecting the protest in Peru. Since the beginning of the massive Peru protests in different areas of the country in December 2022, the Army and National Police of Peru (PNP) have unlawfully fired lethal weapons and used other less lethal weapons indiscriminately against the population. This repression of the protests constituted widespread attacks, especially against Indigenous people and campesinos (rural farmworkers).
Sign and share our online action calling for a legally-binding global treaty to regulate the trade in policing equipment to ensure it does not end up in the hands of abusive police forces. A paper petition can be downloaded here.
Read up on the Essential elements of the Torture-Free Trade Treaty
Read the campaign briefing Protect the Protest! Why we must save our right to protest
Want to get more involved?
Contact Hilary Homes, Crisis and Tactical Campaigner at the national office: hhomes@amnesty.ca.
Top photo: A protester holds a portrait of Mahsa Amini during a demonstration in Turkey in support of Amini, a young Iranian woman who died after being arrested in Tehran by the Islamic Republic's 'morality police.' (Photo by OZAN KOSE/AFP via Getty Images)