We're well into summer and many of us are spending all our non-school or non-work time heading for the beach or maybe a hiking trail. Perhaps you have a kayak or canoe to get out of storage. Or maybe your speed is just to chill on the patio. All great summer-in-the-sun activities.
Rainy days are another matter. But instead of lamenting that rain puts a damper on plans to enjoy the great outdoors, think instead of it as an opportunity to expand your knowledge of human rights, campaigning, and skills for activism. Here are three great online learning places to start!
Amnesty International Human Rights Academy
The international office of Amnesty International maintains an online learning platform with an extensive offering of courses on a wide range of thematic topics. They continually add new courses to go with new campaigns. The platform also offers courses in an increasing variety of languages.
Topics include general introductions to human rights and courses that help you understand and campaign on the rights of Indigenous Peoples, migrants and refugees, human rights defenders, children, and much more. Topics can also be quite specific, including lessons on climate justice, energy transition, policing, gender-based violence, and taking action on LGBTQI+ rights.
Courses are free and self-paced, and run from 15 minutes to 7 hours, although many are about 20 minutes long.
Amnesty Canada Online Learning Centre
Amnesty Canada also maintains an online learning centre, with a focus on upskilling your activism. Here you will find an introduction to Amnesty Canada, and several 20-minute courses on skills for activism including Letter-Writing for Impact, Creative Activism, Photography for Activists, Working with Others, and Self-Care for Activists. A course on lobbying will be posted later this summer.
These courses are also free and self-paced.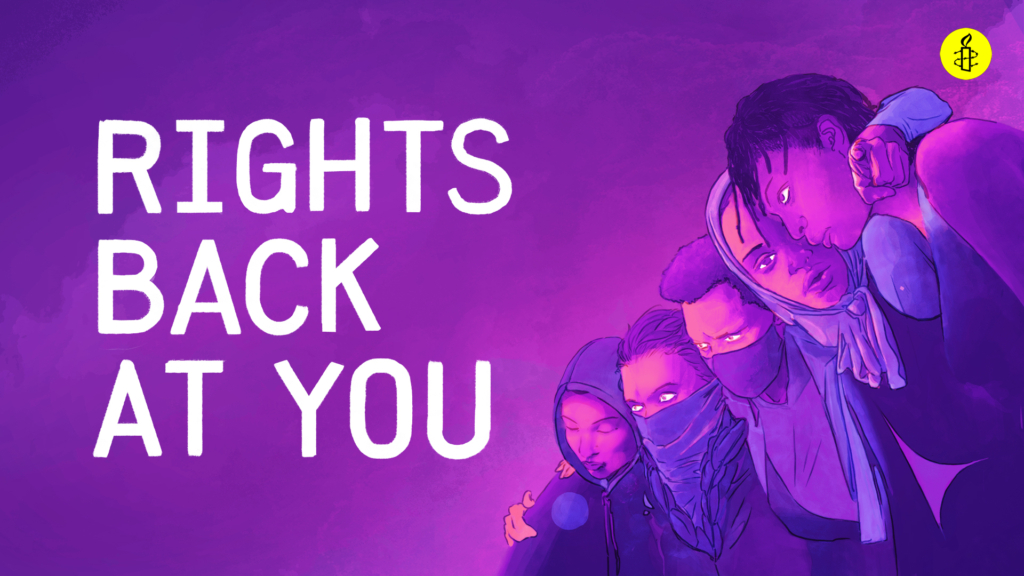 Rights Back At You Podcast
Through this lively and informative podcast series, Amnesty Canada examines anti-Black racism, policing, and surveillance. Rights Back At You delves into stories of resistance and meet the people making change unstoppable. From facial recognition and the right to protest to the war on drugs and defunding the police, this online learning series connects the dots and passes the mic to people building a better future now. Together, we unravel the Canada you think you know and challenge the systems that hold back human rights.
Online Learning: No More Rainy Day Blues!
So, the next time the forecast is for rain, prepare a mug of your favourite hot beverage, log-in and settle-in to expand your mind and develop your skills. Don't worry, the weather will change and you'll be back outside in no time!
Amnesty International Human Rights Academy
Amnesty Canada Online Learning Centre