Solidarity with Women and Girls in Iran and Afghanistan, Protect Civilians in Sudan and Ethiopia, Ban the Scan and more

They want to present themselves to the international community as moving away from violence but, in reality, they are carrying out these actions discreetly. They are truly creating fear in our existence.

A woman in Esfahan who received a ban for defying veiling
Woman Life Freedom uprising anniversary September 16
The death in detention of 22-year-old Mahsa (Zhina) Amini on September 16, 2022, following her violent arrest by Iran's "morality" police sparked an unprecedented popular uprising. The crackdown was swift and brutal: hundreds of protesters were killed, thousands injured, and over 20,000 arrested. The first protesters were executed in December 2022 after fast-tracked trials and forced confessions.
As women and girls led the call for change in Iran, challenging decades of gender-based discrimination and violence, they became targets for arrest and retaliation. Thousands of schoolgirls were poisoned in what appeared to be a coordinated campaign to punish them for peaceful participation in protests and acts of resistance such as removing their mandatory hijabs and showing their hair in public while in school uniform.
Nearly a year later, Iran is doubling down on enforcement of discriminatory and degrading compulsory veiling laws that severely impact the human rights of women and girls and place them under mass surveillance. Since April 2023, police have sent almost one million text warning messages to women photographed unveiled in their cars, issued 133,174 text messages requiring the immobilization of vehicles for a specific duration, confiscated 2,000 cars, and referred more than 4,000 "repeat offenders" to the judiciary across the country. Countless women have been suspended or expelled from universities, barred from sitting final exams, and denied access to banking services and public transport. Hundreds of businesses have been forcibly closed for not enforcing compulsory veiling.
Not satisfied with the current law, judicial and executive authorities introduced a new draft "Bill to Support the Culture of Chastity and Hijab" targeting women and girls who appear in public or on social media without headscarves or "nakedness of a body part or wear thin or tight clothes." An extensive list of potential penalties includes fines, confiscation of cars and phones, driving bans, deductions from salaries and benefits, and dismissal from work. More serious cases face flogging, imprisonment for up to five years and travel bans.
Iranian authorities are desperately trying to reassert their dominance and power over those who dared to stand up against decades of oppression and inequality during the 'Woman. Life. Freedom.' uprising. The past months have seen a surge in executions and use of the death penalty as a tool of political repression. Instead of opening criminal investigations into unlawful killings during protests, Iranian authorities have destroyed evidence and persecuted survivors and victims' relatives who called out for truth, justice, and reparation.
WHAT YOU CAN DO
Sign and share Amnesty's online actions:
Call on Canada to support survivors and victims of human rights violations in Iran
Demand an end to schoolgirl poisonings in Iran
Attend a protest rally in your area on September 16. Here's what is planned so far:
St John's: 12pm at City Hall
Montreal: 2pm at McGill University (Roddick Gates)
Ottawa: 11am National Gallery
Toronto: 3pm at Queen's Park (King Edward Equestrian statue)
Sudbury: 1:30pm at Bell Park (York St parking lot)
Saskatoon: 3:30pm at Kiwanis Memorial Park
Edmonton: 2pm at City Hall (Sir Winston Churchill Sq)
Calgary: 2pm at the Peace Bridge
Vancouver: 2pm at the Vancouver Art Gallery
These protest rallies are organized by the Iranian community in Canada. You'll see and hear many different messages from the groups in attendance. Bring your own messages of solidarity, calls for human rights and to protect the protest in Iran. Here are some sample phrases:
Say her name: Mahsa Amini
Women Life Freedom
Protect the Protest in Iran
Stop the execution spree in Iran
Forced Veiling Violates Human Rights
Stop Forced Veiling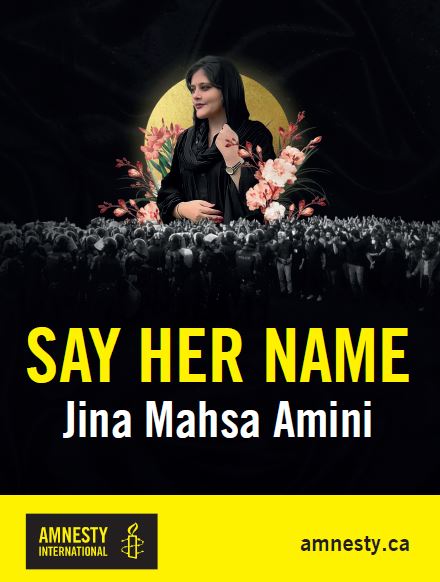 The war on women in Afghanistan
Since returning to de-facto power in August 2021, the Taliban's relentless attack on human rights has decimated the rights of women and girls to such an extent that no part of their daily lives is free from discrimination.
Let there be no doubt: this is a war on women and girls:
banned from public life
prevented from accessing education
prohibited from working
barred from moving freely
arbitrarily arrested and detained for so-called "moral crimes"
imprisoned, disappeared and tortured
I don't want Afghan women to be a part of history. We need everyone to be the voice of Afghan women, calling for their safety and security.

Shukria Barakzai, Former member of Parliament and Afghan Ambassador to Norway
The Taliban have consistently targeted women and girls who participate in peaceful protests by arbitrarily arresting, detaining and forcibly disappearing them. While in detention women have been subjected to torture and other ill-treatment and forced to sign "confessions" or agreements not to protest again.
What Amnesty International is calling for:
The Taliban must be held accountable for their actions through pressure from the international community. We're calling for an investigation into possible crimes under international law, including the crime against humanity of gender persecution.
WHAT YOU CAN DO
To date almost 200,000 people have signed Amnesty's global petition. Please continue to promote our online petition calling on the Taliban de-facto authorities to respect and guarantee protection of human rights in Afghanistan. Each signature will show the Afghan people that we stand in solidarity, and that we will continue to demand the international community do more to hold the Taliban accountable for these human rights abuses. Use the hashtag #EndImpunityNow on social media.
Take action on the case of education activist, Matiullah Wesa, who was arbitrarily arrested in March. Matiullah Wesa is an education activist, founder, and head of PenPath, a collective of 3000 volunteers who campaign in remote districts and provinces of Afghanistan on the importance of education, especially girls' education. PenPath implemented volunteer programs to advance human rights and girls' access to education. After the Taliban took control of Afghanistan on August 15, 2021 and barred female education from secondary schools and later universities, Wesa led public campaigns and assemblies demanding the Taliban re-open education institutions for girls and women in Afghanistan. Amnesty International is calling for his immediate and unconditional release.
Amnesty's latest reports:
Afghanistan: Taliban's cruel attacks in Panjshir province amount to war crime of collective punishment
Afghanistan: Taliban's treatment of women and girls should be investigated as the crime against humanity of gender persecution
Protect civilians in Sudan
Since 15 April 15, 2023, the SAF (Sudanese Armed Forces led by Sudan's Sovereign Council Head General Abdel Fattah al-Burhan) and the paramilitary RSF (Rapid Support Forces led by General Mohamed Hamdan Dagalo, commonly known as Hemedti) have been fighting for control of Sudan.
Amnesty's latest research report documents mass civilian casualties in both deliberate and indiscriminate attacks by the warring parties, sexual violence against women and girls, targeted attacks on civilian objects such as hospitals and churches, and extensive looting. Some of the violations documented – such as attacks targeting civilians, attacks on humanitarian infrastructure, rape and other sexual violence, and pillage – amount to war crimes. Particularly concerning is an increase in ethnically motivated attacks in west Darfur.
According to the UNCHR, over five million people have been displaced by the fighting, with over one millions fleeing the country – most to Chad and Egypt.
What Amnesty International is calling for:
Extend the arms embargo that currently applies to Darfur to the whole of Sudan.
Increase humanitarian support for Sudan and neighbouring countries receiving refugees.
Ensure their borders are open to civilians seeking safety.
Protect human rights defenders.
Together with over 100 organizations, we are also calling on the UN Human Rights Council to establish an independent investigative and accountability mechanism to monitor, collect, and preserve evidence of human rights violations in Sudan.
Stay tuned: A new action will be launched in the second half of September.
Atrocities continue in Tigray
The signing of a Cessation of Hostilities Agreement (CoHA) between Ethiopia's federal government and the Tigray People's Liberation Front (TPLF) in November 2022 was widely welcomed by the international community after years of brutal conflict. Amnesty's latest research confirms that the Eritrean Defense Forces — allied to the Ethiopian federal government — committed war crimes and possibly crimes against humanity in the Tigray region, immediately before and after the signing of the CoHA.
Amnesty is calling on the UN Nations Human Rights Council to renew the mandate of the International Commission of Human Rights Experts on Ethiopia (ICHREE) to preserve evidence of crimes under international law and support future accountability efforts.
Share our report Today or Tomorrow, They Should Be Brought Before Justice" – Rape, Sexual Slavery, Extra-Judicial Executions and Pillage by Eritrean Forces in Tigray on social media using the hashtag #RenewICHREE


Ban the Scan petition delivery coming up
Signatures on Amnesty's global petition calling for a ban on the sue of facial recognition technology will be delivered to the UN General Assembly this fall. Add you name and continue to share our online petition before October 1.
Want to know more? Read our blog on Racial bias in facial recognition algorithms and Listen to Episode 1 of the Rights Back At You podcast on facial recognition and anti-Black racism.
For more information on any of these actions, please contact Hilary Homes, Crisis and Tactical campaigner, at the national office: hhomes@amnesty.ca.
Photo credits
Top image: An image of Mahsa Amini is project during the press conference for the launch of Amnesty International's Annual Report in Paris March 27, 2023. © christophemeireis.com
Ban the Scan: Spencer Platt/Getty Images