On June 4, 1989, Chinese troops shot dead hundreds, if not thousands, of people who had taken to the streets in and around Beijing's Tiananmen Square to call for political reforms. It is etched into history as the day the Chinese authorities ruthlessly stamped out peaceful protest. No one knows the true number of fatalities, as any discussion of the crackdown is heavily censored to this day.
Thirty-four years on, the right to freedom of peaceful assembly remains severely restricted in mainland China. Authorities have long characterized protests and public assemblies as "disruption to public order", and under President Xi Jinping, curbs have grown even tighter, making expression through public protests exceedingly rare.
But some brave people still gather to speak out, despite the risk of being arrested.
One of the most recent examples was in late 2022, when thousands of people came out across China to express their anger about Covid-19 restrictions that were in place at the time. The nationwide protests, triggered by a deadly fire at a locked-down apartment building in the northwestern city of Urumqi, were the country's biggest for many years.
But in fact, Chinese activists have a long history of protest, post-Tiananmen, in spite of the deeply repressive environment:
2022: 'White paper' protests
In November 2022, videos shared on social media showed protests breaking out across universities and cities throughout China, including in Beijing, Guangdong, Shanghai and Wuhan. Peaceful protesters commemorated victims of the Urumqi fire and called for the easing of lockdown measures. Many also demanded censorship to end and some called for President Xi to step down.
The unexpected scale and ferocity of the protests showed that many people in China were willing to face high risks of prosecution just to speak out. Many protesters have since been arrested.
The space for independent protest on such scale in China is virtually non-existent, but the 'white paper' protests showed the bravery of people in China.
2018: Jasic labour movement
In July 2018, workers at Jasic Technology, a welding-equipment manufacturer in the southern Chinese city of Shenzhen, attempted to set up a trade union. Days later, three of the workers were arrested.
University students, labour rights advocates and other workers were detained or harassed for taking part in protests against the arrests. Many university Marxist groups active in the Jasic movement were eventually disbanded or forced to restructure.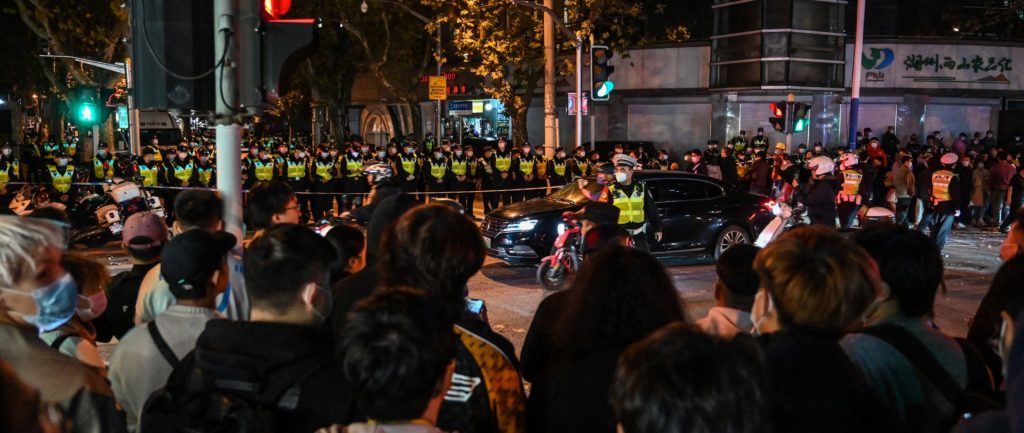 2012-2020: New Citizens' Movement
The New Citizens' Movement is a loose network of Chinese activists founded by legal scholar Xu Zhiyong in 2012 to promote government transparency and expose corruption.
Dozens of lawyers and activists associated with the network were targeted after attending an informal gathering held in Xiamen, a city on China's southeast coast, in December 2019. The group, which included Xu, had met to discuss the civil society situation and current affairs in China.
Later that month, police across the country began summoning or detaining participants in the Xiamen gathering. Xu and human rights lawyer Ding Jiaxi were sentenced to 14 and 12 years in prison respectively in April 2023.
2012-2015: Feminism movement
Since Xi Jinping came to power in 2012, the already limited space to exercise freedom of expression and freedom of peaceful assembly further diminished. It has become effectively impossible for activists and groups to mobilize mass public protests, due to intensifying online censorship and increasing control over non-governmental organizations (NGOs), such as through the 'Foreign NGO law'.
Nevertheless, people still do it. For example, a new feminism movement emerged in 2012, known for its street actions and "atomized" women's rights protests, sometimes involving just one person.
The Chinese government has since started a systematic crackdown on the feminist movement. Tactics have included vilification campaigns and harassment of women members, shutting down gender groups in universities and censoring online discussions around gender and women's rights issues. In 2015, five prominent members of the group were arrested and detained.
Today, Chinese feminist activists continue their work with offline organizing and overseas activism.
2011: 'Jasmine Revolution' pro-democracy protests
The 'Arab Spring' protests in the Middle East and North Africa, beginning with Tunisia's 'Jasmine Revolution' in late 2010, sparked online calls for protests in China. State-affiliated media characterized the assemblies and protests as "disruption of public order" and claimed that foreign media mocked the protests as "performance art".
More than 100 activists, many of them active on Twitter and blogs, were detained, or put under surveillance or illegal house arrest. Some are still missing. Since then, the term "performance art" has been used by activists to skirt censorship.
1999: Falun Gong protest in Beijing
More than 10,000 Falun Gong followers undertook a silent protest in Beijing against the government's harassment of members of the spiritual movement, which had gained a large following in China during the 1990s.
The Chinese government responded by outlawing the group and launching a campaign of intimidation and persecution, directed by a special organization called the 610 Office. Tens of thousands of Falun Gong practitioners have been arbitrarily detained and many tortured since the movement was banned.
4 June 2023
Public commemoration, or even mention, of the Tiananmen crackdown is still banned in China. Hong Kong's annual vigil for the victims the crackdown continued for 30 years and was attended by hundreds of thousands of the city's residents, but this too has been banned since 2020 as repression in the city increased after the enactment of the Beijing-imposed National Security Law. Some of the vigil's organizers, such as the human rights lawyer Chow Hang-tung, are detained.
And yet, people in Hong Kong, in mainland China, and across the world continue to fight for the right to freedom of assembly in China. Peaceful protest can be ruthlessly suppressed, but it can never be completely silenced.
Top photo credit: Tiananmen Square Demonstrators (Photo by David Turnley/Getty Images)