Amnesty International Canada's Inspiring Youth Activists
On this United Nations World Youth Skills Day, we celebrate the incredible achievements of Amnesty International Canada's youth volunteers and activists. These passionate individuals have dedicated themselves to the cause of human rights, utilizing their skills and determination to make a lasting impact.
Amnesty International has approximately 1,500 young people active in our programs across Canada. We have 30 youth leaders in our National Organizers Program and the National Youth Action and Advisory Committee. We also support more than 150 youth leaders in Amnesty chapters at high schools and universities nationwide.
Youth volunteers are also involved in many Amnesty initiatives:
Matchstick Arts and Human Rights magazine for youth by youth
A new global campaign for young people and digital rights
Helping to guide Amnesty's National Youth Strategy
On World Youth Skills Day, we invite you to join us in recognizing their efforts and supporting their invaluable work. By donating to Amnesty International, you can double the impact of your gift through our matching program, giving crucial resources for training and programs that empower our youth activists.
Meet Amnesty's Youth Activists & Volunteers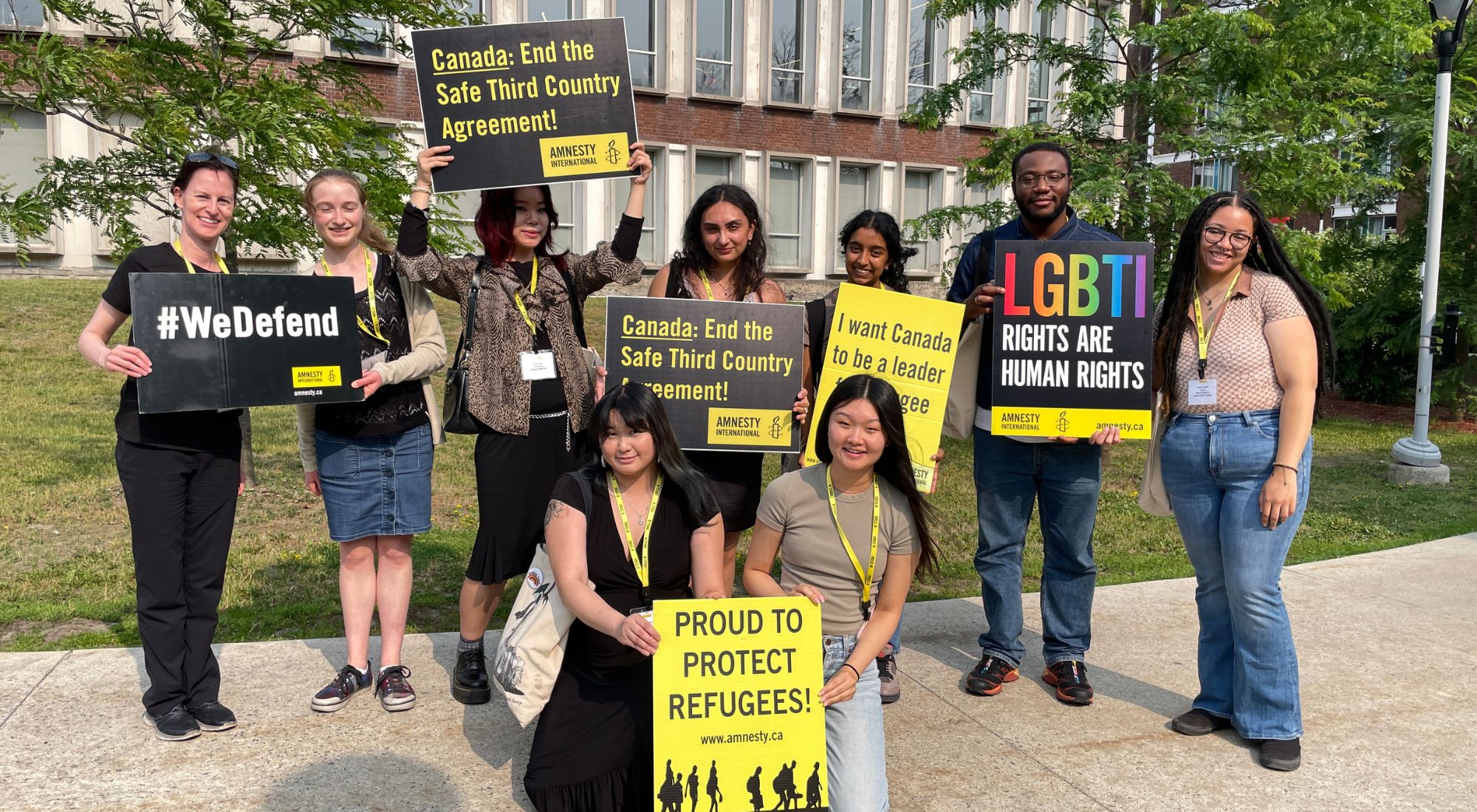 Rojina Haji-Mahmoozadeh: A Personal Journey to Activism
Rojina Haji-Mahmoozadeh's commitment to activism stems from her firsthand experiences growing up in a country in the Middle East where human rights were often violated. After moving to Canada, Rojina found a newfound sense of security that allowed her to pursue her passion for activism.
"Despite my eagerness to participate in activism," Rojina explains, "I was afraid of the consequences of my actions for my family. When I moved to Canada, that barrier was removed. I was no longer afraid for my family's safety."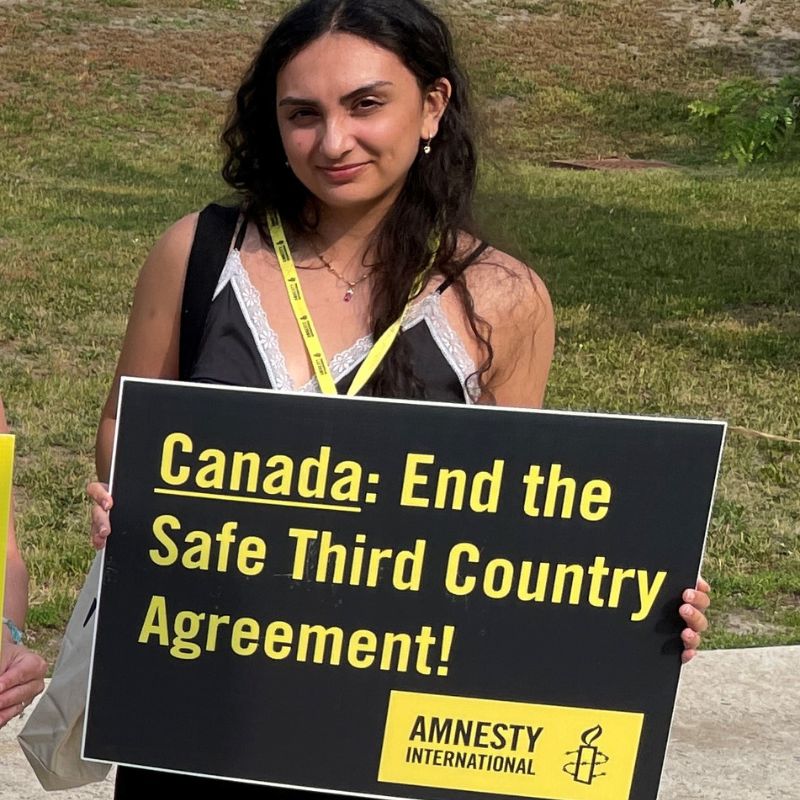 "I see my generation working hard to fight for social justice. We bring our interests, passions, and knowledge and work together. I believe that we can make positive changes in our society."

Rojina Haji-Mahmoozadeh, Youth Activist
As a National Organizer at Amnesty International Canada, Rojina has been involved in many campaigns, including the Vaccine Equity Campaign, Immigration Detention protests in BC, Write for Rights, and the Annual General Meeting (AGM).
Rojina's leadership, organizational skills, and dedication significantly improved these Amnesty campaigns and programs, proving how the power of her generation can drive positive change.
Jasmin Smith: Amplifying Voices, Inspiring Change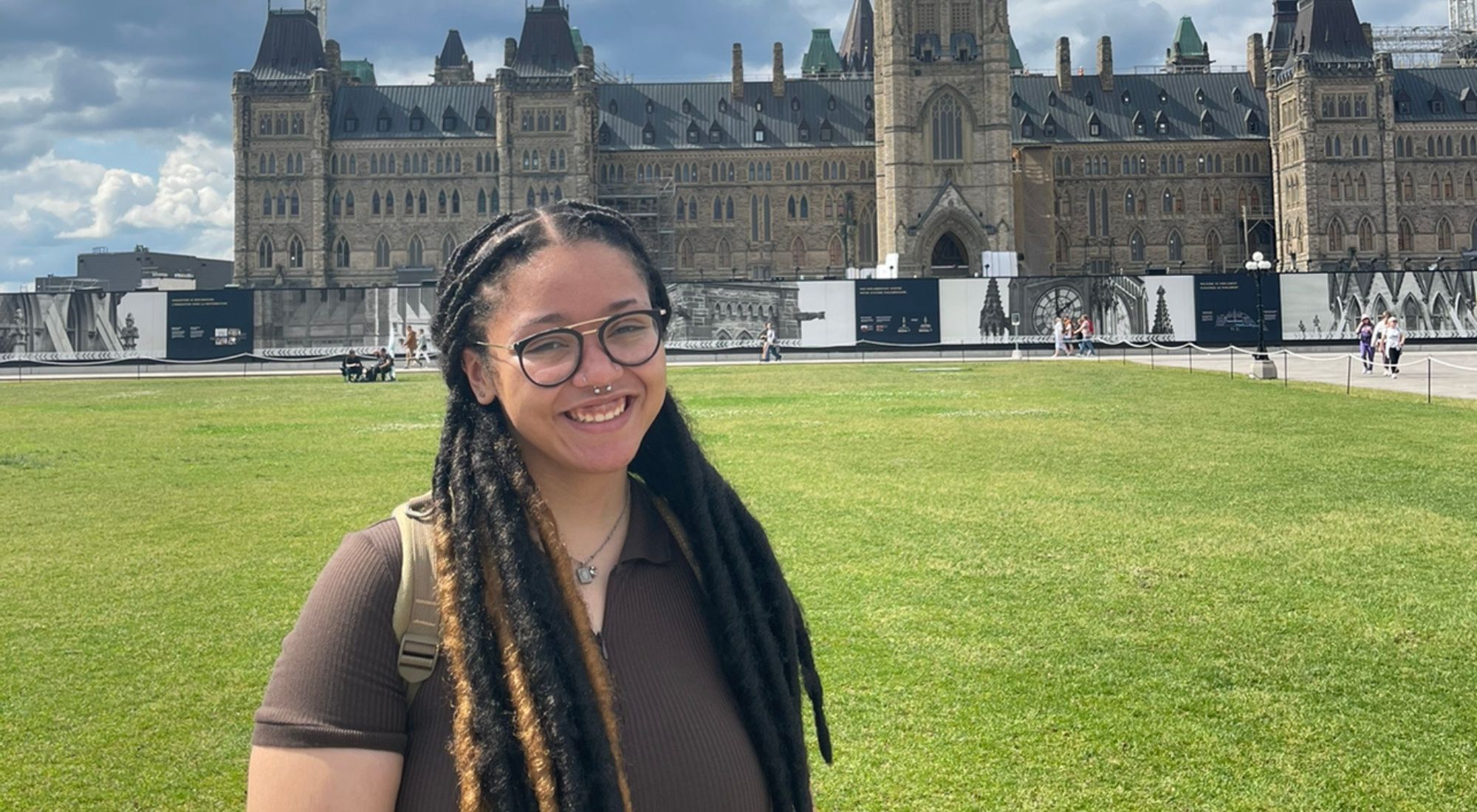 Hailing from a small community in Mississauga, Ontario, Jasmin Smith's advocacy work began in middle school when she volunteered with a local Black development group. Since then, Jasmin has fearlessly used her voice to shed light on human rights violations and social injustices.
As the Executive of Publications for the Amnesty International University of Toronto section, she created a magazine that showcased articles on these pressing issues. Through Amnesty Canada's National Organizer Program, Jasmin took part in the Human Rights College, where she learned valuable communication, organization, and collaboration skills.
"I was selected to be one of five youths from across Canada to help plan Amnesty's Human Rights College," explains Jasmin. "I was able to make new connections and learn how to communicate and organize with guest speakers. While the planning process was sometimes complex, seeing the workshops all come together was very fulfilling."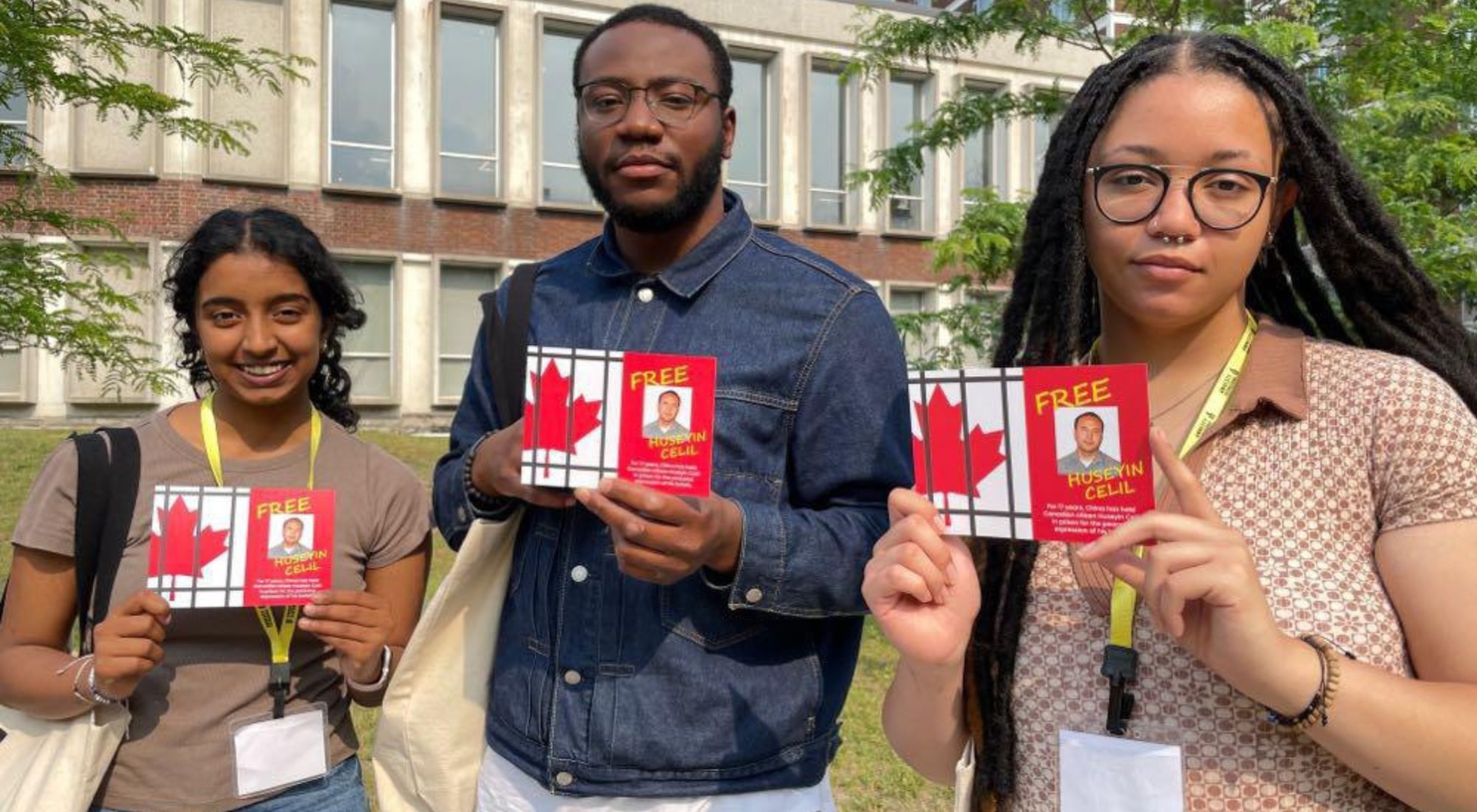 "Coming from my background in local development and writing, as well as studying psychology and literature at university, I tackle human rights from the perspective of how a community feels rather than how a community is viewed. Communities should be given the tools they need to advocate for themselves, which can sometimes come in the form of external help or funding but can also look like outside media highlighting local voices instead of trying to tell their stories for them."
Jasmin hopes to pursue a master's degree in Investigative Journalism. Her dedication to amplifying minority voices and commitment to making lasting change shows how Amnesty's programs can empower the next generation of human rights leaders.
Anneka Spice: Building Connections, Transforming Lives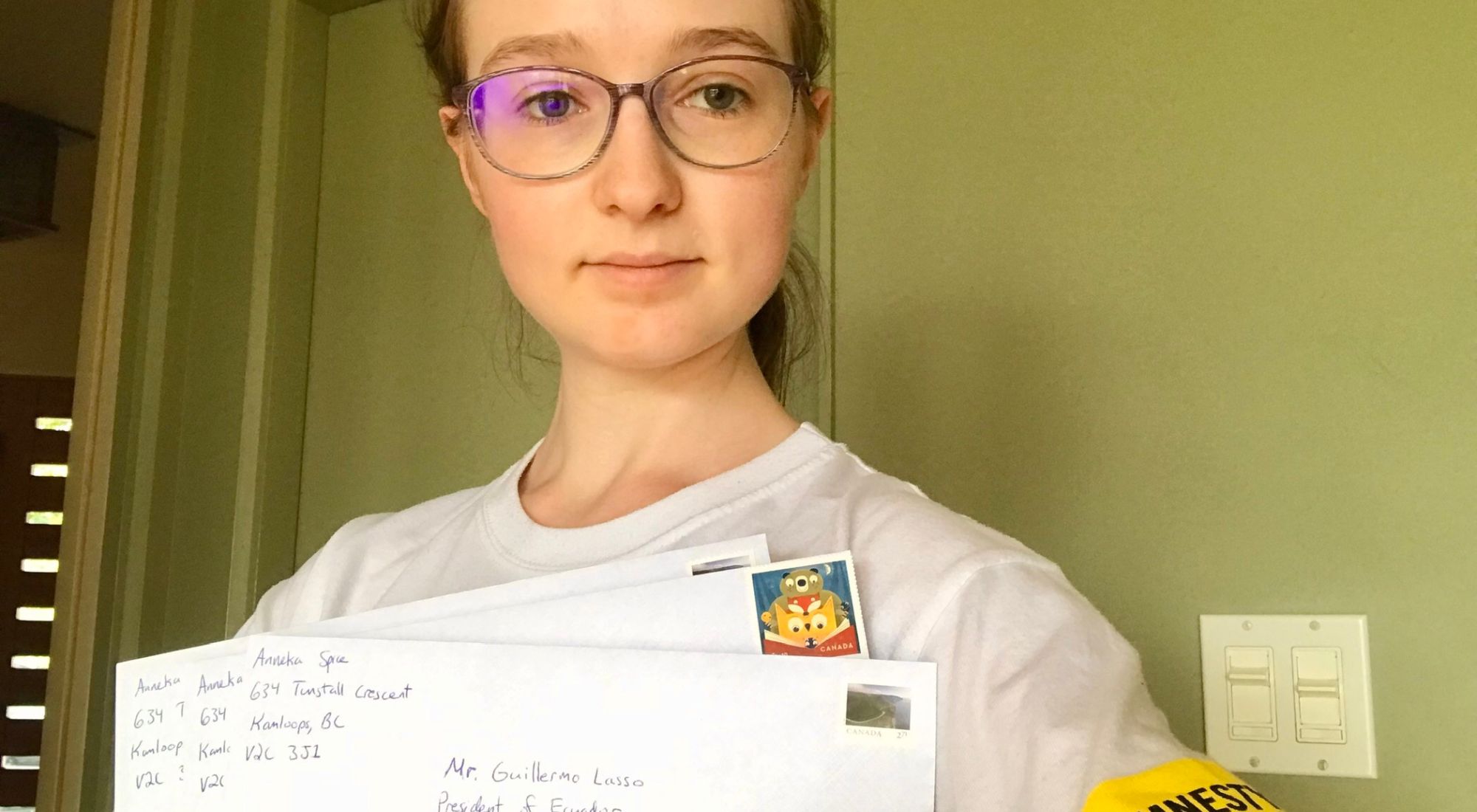 As a youth volunteer with Amnesty International Canada, Anneka Spice's involvement spans various initiatives, including the Urgent Action Network, National Organizers Program, Immigration Detention Specialized Team, and Climate Justice and Corporate Accountability Specialized Team.
Anneka's commitment to human rights begins with the essential skill of listening, which allows her to learn from others' experiences and dismantle systems of oppression. Her strong communications skills and passion for building connections enable her to foster solidarity and campaign for justice.
"I am passionate about connections: between individuals, movements, ideas, and more," explains Anneka. "The concept of shared humanity is essential in human rights work, which asks us to balance collective and individual rights, responsibilities and rights, and other pairs that seem like opposites but are deeply connected."
"These connections help me see how a solidarity action with one Indigenous community defending their land supports the struggle for Indigenous rights worldwide, and how campaigning to free one imprisoned human rights defender can bring hope and energy to the entire movement they represent."

Anneka Spice, Youth Activist
Anneka's vision for human rights includes abolishing oppressive systems and restoring models built on mutual respect and care for all life, land, and water.
"In the language of the Secwepemc land where I live as a settler and try to act on my responsibility to support Indigenous Peoples' struggles for rights and Land Back, kukwstsétselp or thank you. I thank the land that sustains me, and for my opportunities to be involved in such fulfilling work with such compassionate people."
World Youth Skills Day: Your Opportunity to Make a Difference
On this World Youth Skills Day, we celebrate the unwavering dedication and remarkable achievements of Amnesty International Canada's youth volunteers and activists. Their passion, skills, and determination transform lives and shape a brighter future for human rights.
These inspiring stories from Rojina, Jasmin, and Anneka showcase the incredible potential of youth activists in driving human rights work. However, they cannot thrive without the necessary resources and support. By donating to Amnesty International Canada today, you can significantly affect the lives of these young activists and the communities they advocate for.
To celebrate World Youth Skills Day, you can double your impact through our matching program, giving essential resources and training to our youth activists. Donate now to empower these youth activists and help them lead the way toward a more just and inclusive world.
Related Links