May 16 – September 1st, 2022 
Organized by AI Canada Gender Rights team in partnership with the Native Women's Association of Canada (NWAC)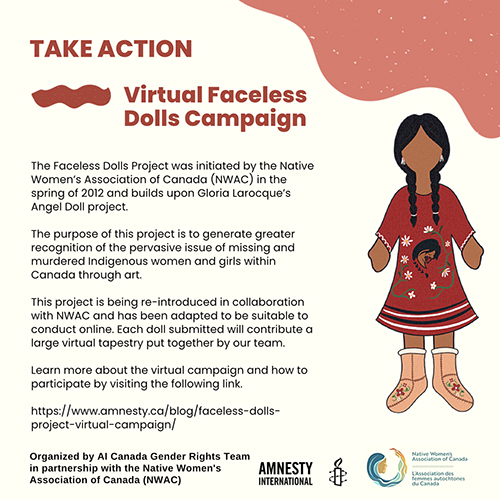 The Faceless Dolls Project was initiated by the Native Women's Association of Canada (NWAC) in the spring of 2012 and builds upon Gloria Larocque's Angel Doll project. The purpose of this project is to generate greater recognition of the pervasive issue of missing and murdered Indigenous women and girls within Canada through art. The dolls are a visual representation of the 582 known cases of missing and murdered Indigenous women and girls and have been used as part of a travelling exhibit launched in Ottawa in 2013. Each doll represents an Indigenous woman who has become a 'faceless' victim of a heinous crime.
This project is being re-introduced in collaboration with NWAC and has been adapted to be suitable to conduct online. While the dolls were originally constructed physically using felt, we are mindful that given the current circumstances it is necessary to provide alternative options to engage in this campaign virtually. As such, Amnesty International Canada volunteers have prepared resources to enable us to collectively commemorate and honor missing and murdered Indigenous women and girls regardless of where we are situated.
Two templates have been provided which offer the option to either colour in online or assemble with additional material. The completed dolls will be submitted here. We will then collect the dolls and create a virtual tapestry.
If you have any questions, please consult the FAQ page, or contact Catharinah at catfaux2018@gmail.com.
Campaign Resources:
Webinar Recording https://www.youtube.com/watch?v=O8BLOSbFn8g&feature=youtu.be
Doll Template 1: https://docs.google.com/document/d/1B44e0Ao_r2Pm0c7zRVcXZjeexlnugw0FqQZbXW2s1bI/edit
Doll Template 2: https://docs.google.com/document/d/1d2LUlJap-4tZIWU1NNOXD0SkUZxI0d0pVYP8TQBDsGg/edit
Submission Link: https://docs.google.com/forms/d/e/1FAIpQLSeLRloxRDpPl9oBVl7A73kBjttLbBe6dZCrLkbRNSlaeAt5rA/viewform